Removing an artificial eye
WITH FINGERS

Pull down the lower eyelid with index finger, look up and slide finger towards the ear.
Allow the prosthesis to slide out over the lower lid. Gently remove prosthesis with free hand.
WITH SUCTION CUP

Open your eyelids, and then the suction cup should be applied to the prosthesis and then the handle should be squeezed.
The lower lid has to be pulled down carefully with your fingers. The prosthesis should be titled up over your lower lid. Then the suction cup should be squeezed in order to release the handle.
Inserting an artificial eye
WITH FINGERS

Lift upper lid with index finger to create an opening. Gently slide top edge of prosthesis under upper lid.
Release upper lid once prosthesis is in. The lower lid should be pulled down and then blink continuously to set prosthesis into position.
WITH SUCTION CUP

Suction cup should be attached to the prosthesis with the help of squeezing handle. The upper lid of your eye should be lifted up and the top edge of the prosthesis should be slided under the upper lid.
Release upper lid and pull down lower lid to seat prosthesis. Squeeze suction cup handle to release. Blink eyelids.
HANDLING A SCLERAL SHELL
Follow same handling instructions as artificial eyes.
It may be helpful to look down while removing and placing the scleral shell.
Wear as long as comfortable, removing at night if necessary.
Cleaning your artificial eye
Over time, the surface of the prosthesis collects protein and debris. Taking good care of your prosthesis helps to ensure a healthy socket and increase the life of your prosthesis.
Some patients find that removing and cleaning their prosthesis every day is necessary, while others are able to wear it for a couple weeks or longer before cleaning.
Cleaning the prosthesis every 2-3 weeks is ideal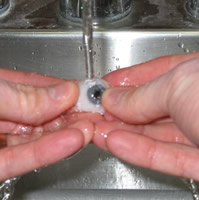 Wash hands with soap and water.
Use water to rinse and softly scrub the prosthesis with your fingers, removing built-up protein and debris.
Only use baby shampoo when necessary and rinse thoroughly.
The artificial eye should be dried with the help of soft tissue and apply circular motion to the eye to give it a polished look.
Soak the eye with a warm wet tissue to remove build up proteins from your eyelids and eyelashes. It is also possible to clean the front of your prosthesis this way, without removing the prosthesis.
A professional polish is the only way to remove the protein attachments and bacterial infiltration. We recommend having your prosthesis polished every year, depending on your body chemistry. Please call today to schedule an appointment if your last polish was over 1 year ago.
HELPFUL HINTS FOR ARTIFICIAL EYE WEARERS
Always use clean hands when handling your prosthesis.
Check your surrounds to make sure the prosthesis won't be damaged or lost if it is accidentally dropped.
Irritation & excess drainage can be caused due to excessive handling, so the prosthesis should be removed only as directed by ocularist.
Outward wiping of eyelids can dislodge the prosthesis, so always close the eyelids and wipe towards nose.
Try to position your chin toward the person you are conversing with. Practice moving your head and shoulders, not just your eyes.
To protect your natural eye, use nicely fit glasses with polycarbonate lenses.
Do not store your eye in tissue, as it could accidentally be discarded.
Do not clean the prosthesis with any solvents, hand sanitizer or alcohol, as these chemicals may damage the prosthesis and your socket.
POLISHING YOUR ARTIFICIAL EYE
A professional polish provides comfort, a more natural appearance, and removes scratches, protein deposits and bacteria from the surface of the prosthesis. An examination will also be performed to ensure your tissue is healthy and your prosthesis is fitting correctly. This appointment also allows your ocularist to examine the orbit, ensuring that your tissue is healthy and your prosthesis is fitting correctly.
Professional polishing of prosthesis should be done every year.
Polishing of prosthesis is needed (required) when some of these symptoms occur:
Irritation or Itchiness caused in the eyelids
Increased drainage from prosthesis or feeling discomfort
Changes are visible in the appearance of eyelids (prosthesis)
Please contact us with any questions regarding the fit and care of your prosthesis.
REPLACING YOUR ARTIFICIAL EYE
Artificial eyes do need to be replaced. Eye sockets change shape over time, affecting comfort, movement, and appearance. The surface of the prosthesis also breaks down, resulting in an unhealthy formation of bacteria on the prosthesis.
An artificial eye should be replaced approximately every five years.
Some symptoms that may occur when one is in need of a replacement are:
increased drainage
dryness or discomfort
recurring infections
droopiness of the eyelids
changes in appearance
Please contact us with any questions regarding the fit and care of your prosthesis.
PROSTHETIC EYE LUBRICANTS
Extreme dryness, irritation and difficulty in blinking is occasionally experienced by the artificial eye wearers. Moisture from prosthesis tends to evaporate due to adverse weather, dust, wind and air-conditioning. Allergies and body changes can also contribute to dryness.
To apply a lubricant or eye drop to your prosthesis, place a drop on a clean finger and swipe across the prosthesis. Blink a few times, then close your eye and blot your skin with a tissue to remove any extra product. Silicone lubricants can be applied as needed, begin by applying morning and night. Water-based eye drops can also be applied as needed, typically every 2-3 hours.
We can recommend a variety of products to alleviate these symptoms and promote comfort. Please contact us.